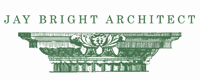 How Does a Church (or other volunteer/nonprofit group) Get Ready for Building Project?
Partners for Sacred Places , an organization committed to the practical care of religious buildings, asked me to develop a program on this topic that I presented to a dozen Connecticut churches in their New Dollars/New Partners program. My preparation included discussions with many colleagues about the essential components of a successful project.

My committee-savvy friend, Ken Gibble PE offered the following:

1. How should members prepare to serve on a building committee?
+ Talk to others to develop a sense of their concerns and wishes.
+ Enter the process with questions not solutions.
+ Give the architect a chance to learn the project needs and constraints.
+ Don't be too sensitive to criticism from others not on the committee.
+ Be ready to listen well and think before speaking.
+ Believe in the success and value of the building project.

2. What does a good building committee look like?
+ A diverse group of people representative of the membership
+ Committed to active participation by meeting regularly for 3-5 years
+ Knowledgeable of vision, needs and wants of the rest of the membership
+ Also knows the organization's finances and politics
+ Open minded, courageous and steadfast

This committee is the bridge from the congregation (community) members and stewards/deacons/ directors to the architect. They must strive to balance an open process without becoming distracted by vocal "experts". When assembling the committee, those responsible should be especially vigilant to bar anyone who cannot attend at least 90% of the meetings, so there is institutional memory. Regularly, they will have to resist calls from those non-committee members, to take on other projects or back tracking on issues that have already been studied and decided. In return for their efforts, committee members are the fulcrum that enables money and skills to meet building needs.
I would be happy to talk to your group about organizing for projects, about specific building ideas or about a general tune up.
-JAY
"…when you are looking at a white clapboard church on a New England green…the exuberance of the way its steeple meets the sky, or the welcoming grandeur of its front door, or the crisp, flat feeling of its walls."

Why Architecture Matters
Paul Goldberger
BRIGHT NEWS & VIEWS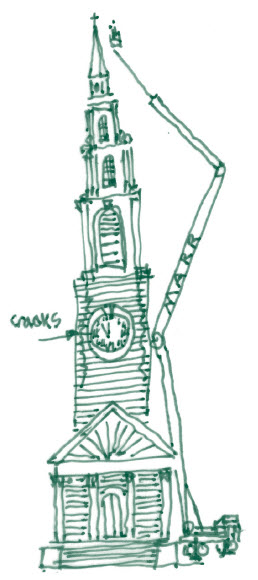 + Please take a few minutes to enjoy my new website
I am pleased to be able to show a wide range of work including happy clients & contractors.
+ I may have reached the high point of my architectural practice when I inspected the United Congregational Church of Bridgeport from a 170 foot man lift sent from Boston. The building committee understood our need to touch most parts of the Christopher Wren inspired steeple for a thorough inspection, partially funded by the CT Trust for Historic Preservation.
+ New Haven Public Library's planning committee asked for my help planning a lunch celebrating architectural thinker Paul Goldberger and his latest book Why Architecture Matters full of sensitive and sensible observations about buildings and their settings. And no, architecture is not frozen music!
+ It is a time of opportunity for those able to initiate a construction project. Most design profesionals and tradesmen would welcome new work after a slow year. As always, be careful not to just shop for a low price that can often lead to expensive outcomes if the company cuts corners, uses inexperienced workers, goes out of business, abandons the job or is litigious.
+ Last August marked our 8th year volunteering at a program for girls-who-had-lost-a-parent included 108 campers last August. It was the first year that Camp Manitou launched a parallel program for boys !!!
BRIGHT NEWS & VIEWS
I was fortunate to spend two weeks in Japan guided by a college friend who had lived there for 13 years. The most astonishing sight/site was the giant, orange tori gateway set on the tidal flats of Myajima Island. It hovered on the water at high tide and was clearly on land like a beached whale at low tide…suggesting the ebb and flow of spirit to the nearby shrine.
Photos may be viewed at: